Club tours are the favorite activity for many members of Loma Prieta Region (LPR). They are scheduled on weekends randomly throughout the year (check our calendar for this year's schedule of activities). Participants gather at a specified time and location, receive a briefing on the day's schedule and then navigate as a group according to the tour leader's plan. A tour generally has a specific destination; a restaurant, winery, museum, park, etc. Along the way you will enjoy driving on less travelled roads and have an opportunity to perhaps appreciate some of California's less seen natural  beauty.
A few tours are overnighters, like ones this year that will take you to Sonora, San Simeon or an overnight stay in converted train cabooses. On these excursions the tour leader will have arranged for lodging, lunch and dinner locales, assorted stops of interest and you will likely enjoy a pre-dinner happy hour of epic proportions.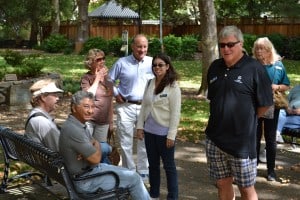 A tour is a great way to acquaint yourself with the LPR membership as you share the experience of the drive, the destination or just your interest in Porsches or cars in general. If these activities sound appealing, you are encouraged to select an event and join us for a day on the road in your favorite car. Because the tour leaders generally require a RSVP to plan for the correct number of participants, watch for contact and other pertinent information on our calendar page as the tour date approaches.
The club charges a modest $5 fee for a one day tour, and for that, plus the cost of a full tank of gas, you can join us and discover why LPR is renowned throughout Porsche Club of America as "The Good Time Region!" For further information: email Tour Director.