LPR Porsche Tech
It's not just the cars…
But to many of us it IS the cars that draw us together. Whether it's a Tour, a Rallye or even a GTG social event, we all share one common passion – Porsche.  And while the club also provides us a social outlet, we also need to support our thirst for what makes Porsches perform and how to keep them in tip-top condition.
For LPR, the Tech Sessions are the cornerstone of providing the membership with information that is useful in the maintenance, repair and general upkeep of their ride. The "Tech Chair" manages Tech Sessions, and is responsible for scheduling the sessions, coordinating with the "host" and promoting the event to ensure a high level of participation. Tech Sessions range from visits to Porsche dealerships to independent specialty shops that provide repair services, upholstery, detailing and dent removal, to name a few.
Interested in hosting an LPR Tech Session?
If your business would benefit from a 500-member club learning about your products and services, contact our Tech Chair and ask to host a Tech Session.
Tech Notes
LPR's newsletter, the Prieta Post, often features technical articles. Many are written by our members who generously share their knowledge and expertise. Here is a recent Tech Note written by Tech Chair Les Schreiber.

Attention!
Key locked in the front trunk?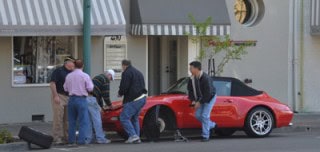 On a recent trip, one of our members locked his ignition key in the front trunk. With his extra key safe at home, the question came up, where is the safety release to open the trunk?  Four club members and one smart phone later, we discovered that there is a release cable, but it's located behind the left front wheel (993 Series 911, this may differ for other models).  So what's involved with getting to it? First, hopefully you or a fellow club member with you has a jack, lug wrench, screwdriver, and a flashlight!
Loosen lug nuts, and then jack up the car
Remove the left front wheel
(Hopefully, you will have your wheel lock tool in the car, where you can access it, so you can loosen the special lug nuts)
Remove the wheel well liner (here is where you need the screwdriver and maybe the flashlight)
Way up in the corner, by the headlight, you will find the cable to pull, which will unlock your front hood
Remove your key, put it in your pocket and reinstall all the above items, and relax.
PS. Don't forget to torque the lug nuts.